Lesson 5: Half Double Crochet
Abbreviations
US:  hdc
UK:  half treble crochet (htc)
Just Slightly Taller
Half double crochet is certainly an oddball stitch. It's a tighter stitch like the single crochet but adds a little bit of height onto the row. Just as the name applies it's half of a double crochet. You won't be using this stitch all that often. I use it when I want to make a very slow height difference on items. So I'll use one of these before a double crochet to make a slope up rather than a jump in height.
The Half Double Crochet
Just like with any project we need a foundation chain. For this one, we're going to do chain 13.
1. Yarn over, you should have 2 loops on your hook. Insert hook into the 3rd chain from hook.
2. Yarn over, pull through the chain. You should have 3 loops on your hook.
3. Yarn over, pull through all 3 loops on your hook. Finished! You just made your first half double crochet! Don't worry, like everything else your first one won't look pretty. The start of the row isn't the prettiest of stitches!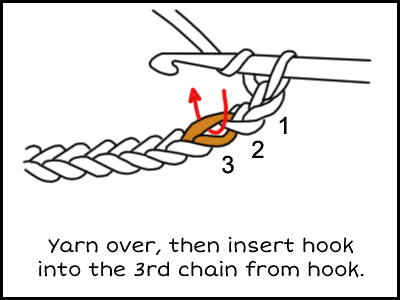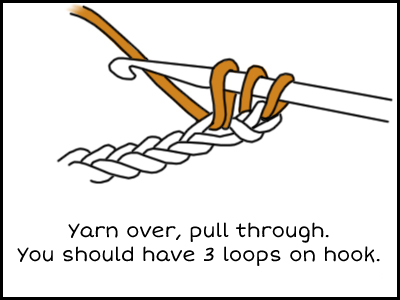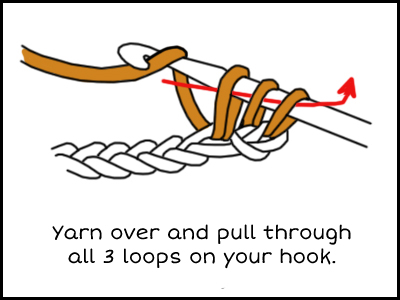 Repeat steps 1-3 in the next chain from the stitch.  Continue until the end of your chain. You should have 12 half double crochet stitches. But how? You only crocheted 11 half double crochets? It counts as 12 because the first 2 chains you skipped count as a half double crochet. Remember this when you go back through on the next row. It's very easy to skip the first 2 chains.
Let's look at each of your stitches in your finished row. Identify each one. Recognize the V in front of each stitch, the line going across the V, as well as the V up top.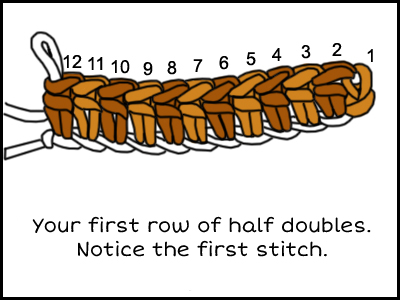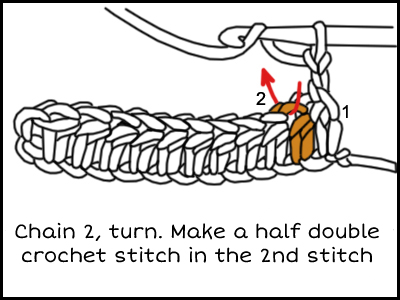 Now that you have your first row of stitches done you're going to make two chain stitches. Then turn your work around, your hook should be on the right side again. Just like the first row, these first 2 chain stitches count as a half double crochet.
Yarn over and insert your hook into the second half double crochet (not the first stitch), yarn over, pull through. 3 loops on hook. Yarn over, pull through all three loops. There's your first half double crochet on the new row. Continue making half double crochets until the end of the row. You should have 12 stitches again. Remember to stitch into the chain 2 of the previous row!
Make sure you're counting your stitches each row. It's very important to learn how to identify stitches to help keep your count. Don't rush through without studying what a half double crochet looks like.
An Alternative
Before I bring this up, I think it is VERY important to learn the "correct" way to make a half double crochet. Once you get used to the technique there is an alternative that, in my opinion, makes the start of rows look more uniform or better. Now that you've crocheted a few rows correctly, do you notice that the chain 2 at the start of rows kind of stick out? You may even notice a slight zig-zag to the piece. Something that I do to combat this is: Crochet your first row as normal (the chain row), but when you start the second row don't skip the first stitch. So, do your chain 2, but stitch into the first stitch. Continue as normal and make sure you stitch into the chain at the end for this row only. That's right, after this second row, do not count the chains as stitches anymore. This really evens out the piece, especially for beginners.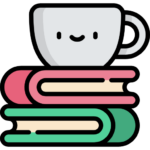 Homework
Practice the half double crochet stitch!
Make a piece that is 10 half double crochets long. So you'll need to start with 12 chain stitches. Noticing a trend with the chain stitches? Just like single crochet is 1 additional chain, half double crochet is 2 additional chains! Keep that in mind!
Make 12 rows. Repeat, repeat, repeat!
How many chains do you need to make before you start a new row of half double crochet?
A – 1
B – None
C – 2
Count how many HDCs are in this picture.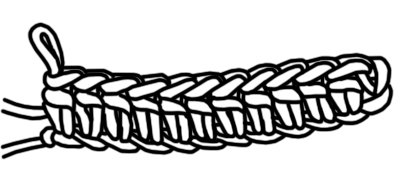 C!
For half double crochets, you need to make 2 chain stitches before you start a new row! This helps add the needed height to make the row even.
12!
Don't forget to count the first 2 chains at the start of the row as a stitch! Can't forget to stitch into it at the end of the second row!