If there is anything the internet does to ease the tension during super serious times.. it is memes. Bernie Sanders in all his glory was just a complete and utter "mood" that day. And I think that is why he went viral. He had the "sick of this shit" pose, the "got better things to do" attitude, and honestly he was just kind of existing. And I'll tell ya, I've felt like this throughout the entire pandemic. I mean, who hasn't? With that, this Bernie Sanders crochet pattern went viral too!
Everyone became obsessed. I saw Bernie everywhere including being spammed by an older brother who very clearly was moments away from purchasing a Bernie Sanders body pillow (I jest.) When the picture went viral of a crocheted version of the popular meme he asked me if I could make him one. Now, I was about to go into my spiel of how I could possibly make him one, but it wouldn't look exactly like the picture as my style of crocheting is very different than the original artist, Tobey King from TobeyTimeCrochet.
I decided before I committed I would make a search to see if the artist was gracious enough to release a pattern. And, jackpot! Tobey King has released the Bernie Sanders crochet pattern for this beloved meme on Ravelry and Etsy. So let's jump into the pattern itself and see what it's got!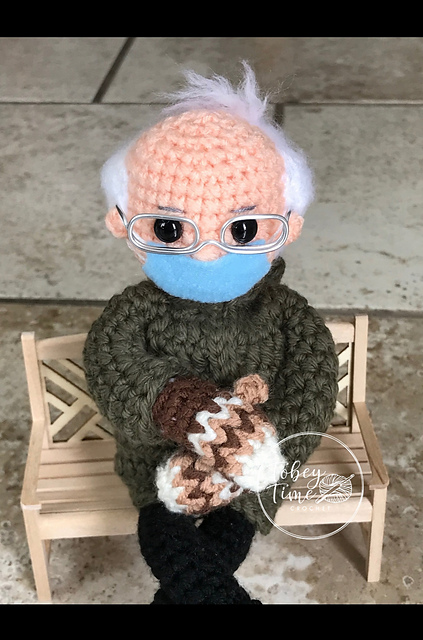 Now, I purchased this pattern at the height of its popularity. Thousands of eager crocheters were purchasing all at once. She was understandably overwhelmed. So, to warn you if you purchase this pattern, she requires you to message her on Etsy after you've purchased (if that's the platform you originally purchased on) so that she can verify your purchase and email you the updated pattern that fixes quite a few mistakes and also explains some techniques better. She was obviously swamped so I didn't hear back from her for a few days, but hopefully, she'll be able to get to people much more quickly now that the hype has died down significantly.
After I got my updated pattern, I dived right in!
Honestly, I've never been a huge fan of this style of doll. I like more chibi, fat cheeks, short, cute little guys. And well, Bernie is a bit… gangly? Very long limbs but still pretty proportionate. If my older brother hadn't asked me to make him I don't think I would have jumped in on this project just based on personal preference. But I really should try more pattern styles. You never know what you'll learn and I will say I did learn some new techniques! His nose for instance. She uses a stitch to create the nose and I loved it! Definitely, something I may have to experiment with in the future.
She does suggest a lot of gluing in her pattern. For example, gluing cardboard to his butt to make it sit better; gluing his eyes on; gluing his mask together, and gluing his mask to his face. I'm not a fan of this, but the good news is if you aren't as well you can easily do this pattern without gluing a thing! His butt sat perfectly flat without the use of cardboard and glue for me.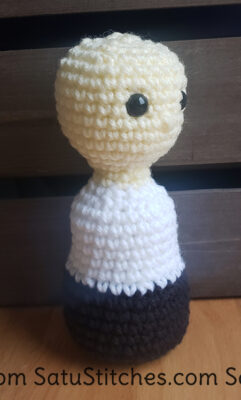 On to the legs! I don't know about you, but I swear I can't make anything even! When attaching limbs one is also slightly off-center, to the left, the right and anywhere it managed to wiggle while I was attaching assured in myself that I had gotten it even. This pattern shows a nice easy way to help you combat this problem with the use of pins and using them to easily find the center of his bottom to make placing the legs easier.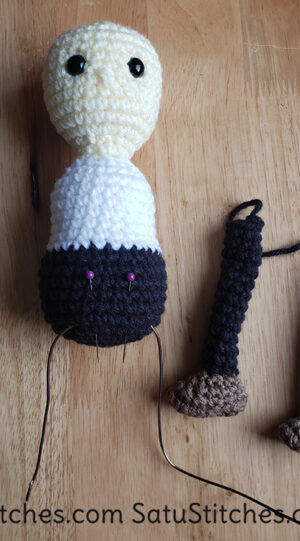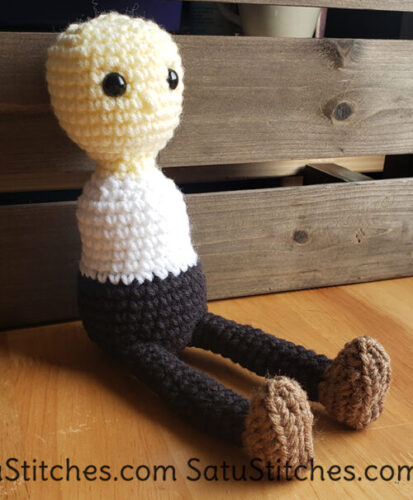 And now.. he sits…
He needs some arms. As someone that focuses on amigurumi, I don't really know that many stitches outside of my basics. I'm hoping to combat this in the future by going out of my way to learn new stitches. Imagine the design possibilities that I've missed out on because I haven't explored beyond what I've needed at the time. This pattern introduces us to a new stitch called the waistcoat stitch. Using this stitch allows us to give the impression of knitted gloves! Awesome!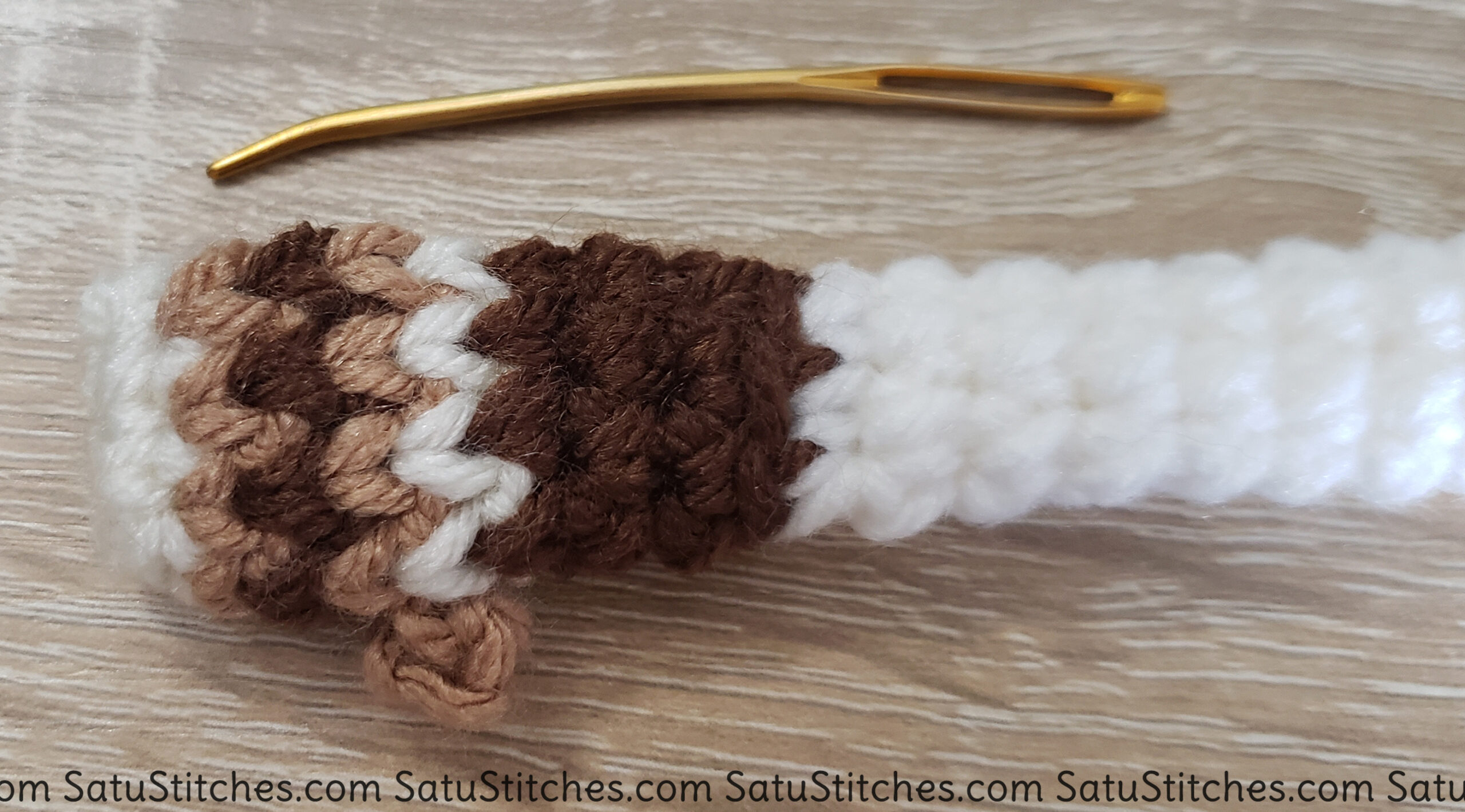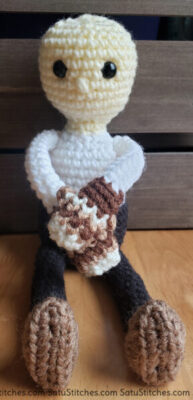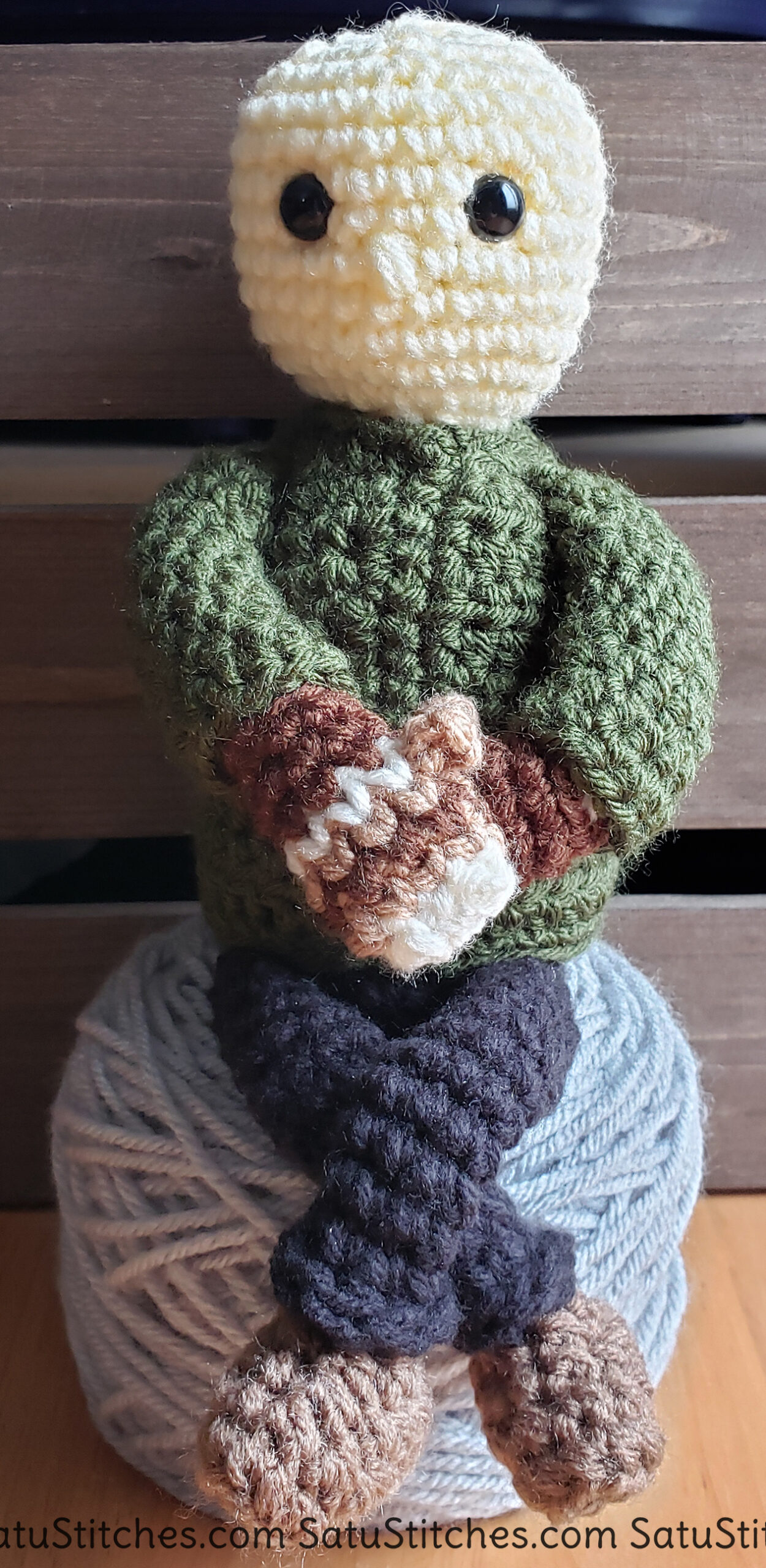 He's beginning to take shape!
Now we have his jacket. You should familiarize yourself with picking up stitches for this pattern. I also noticed that I had to make his sleeves about 2 rows longer so that they wouldn't show the white undershirt. This honestly is probably my fault though. For the white, I used the Caron One pound worsted weight which is a bit thicker than the green I used for the jacket, which was a Hobby Lobby I Love This Yarn brand. So you may not have to do this, but you can always leave a long tail at the end and after attaching you can always add some rows. That's what I did. 🙂
Now, we move onto probably my more frustrating part of the pattern. Not due to the pattern itself, but primarily due to wirework and felt work. I have never used wire outside of structural purposes. So creating his glasses with wire was.. certainly an experience. The use of aluminum wire had the great benefit of being easily pliable that I was able to mold and shape it with just my hands. The worst benefit was honestly… being really easily pliable… if I wasn't careful of every bend I made I would accidentally bend it where my hands were resting. I made about 6 before I finally settled on some glasses that were close enough. I was also running out of wire so there's that.
And then there was the felt… I cut several-sized pieces before finding a good fit for a face mask. I then had to glue the embroidery thread at.. hopefully, the right length.. NOPE TOO SHORT. I swear I measured it!!! And we're back to waiting for glue to dry with new embroidery thread. Once I got the mask done I decided to not glue it like suggested and instead just sewed it on with the rest of the embroidery thread I had.
For my second Bernie (yes I made two, one for each brother) I decided to skip the felt mask and just crocheted one. I didn't write it down (shame on me), but I used a smaller hook, 2.0mm, and just measured it out as I went. If memory serves it was probably a quick CH7 – 6sc and 3-4 rows. Instead of gluing the embroidery thread I just sewed it in. Much much faster and easier in my opinion.
The hair was time-consuming but honestly necessary! He has to have those little whisps of hair flying in the wind. He's not Bernie without them!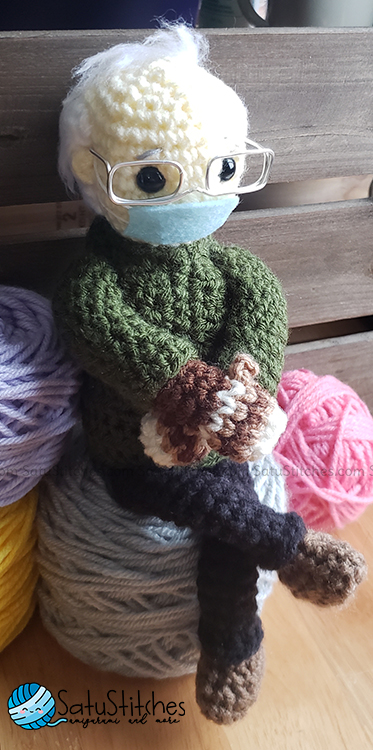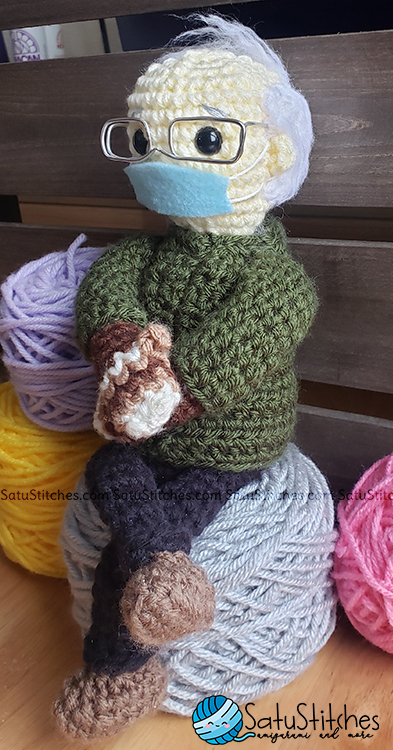 I love how he turned out! It swayed my opinion on gangly dolls and I might experiment with that style a little bit and see if this was a fluke. I'm so incredibly thankful that TobeyTimeCrochet released her Bernie Sanders crochet pattern because she saved me so much time. I also just really enjoyed working on someone else's pattern for once. It was a breath of fresh air.
I highly recommend this pattern! Sure I had a few hiccups, but working through the new techniques makes me a stronger crocheter. Something we should all be striving for.