Deku Link Crochet Pattern
I, like most people my age, started gaming with Mario. I expanded into Legend of Zelda Ocarina of Time and I fell in love with gaming. It truly is the game that gave me so much happiness when I was younger. When I heard there was a sequel?! Take. My. Money. While Majora's Mask may not be a huge favorite among fans I adored it. I made sure to complete every side mission and quest and I just overall enjoyed it. It's unfortunate that they didn't continue the storyline with Link searching for Navi. Anyway, I hope you enjoy this Deku Link crochet pattern. It's modeled after Tatl knocking Link down when he was trying to catch up to the Skull Kid, at the very beginning of their friendship.
Please check out the pattern companion page that has MINIMAL pictures for your convenience.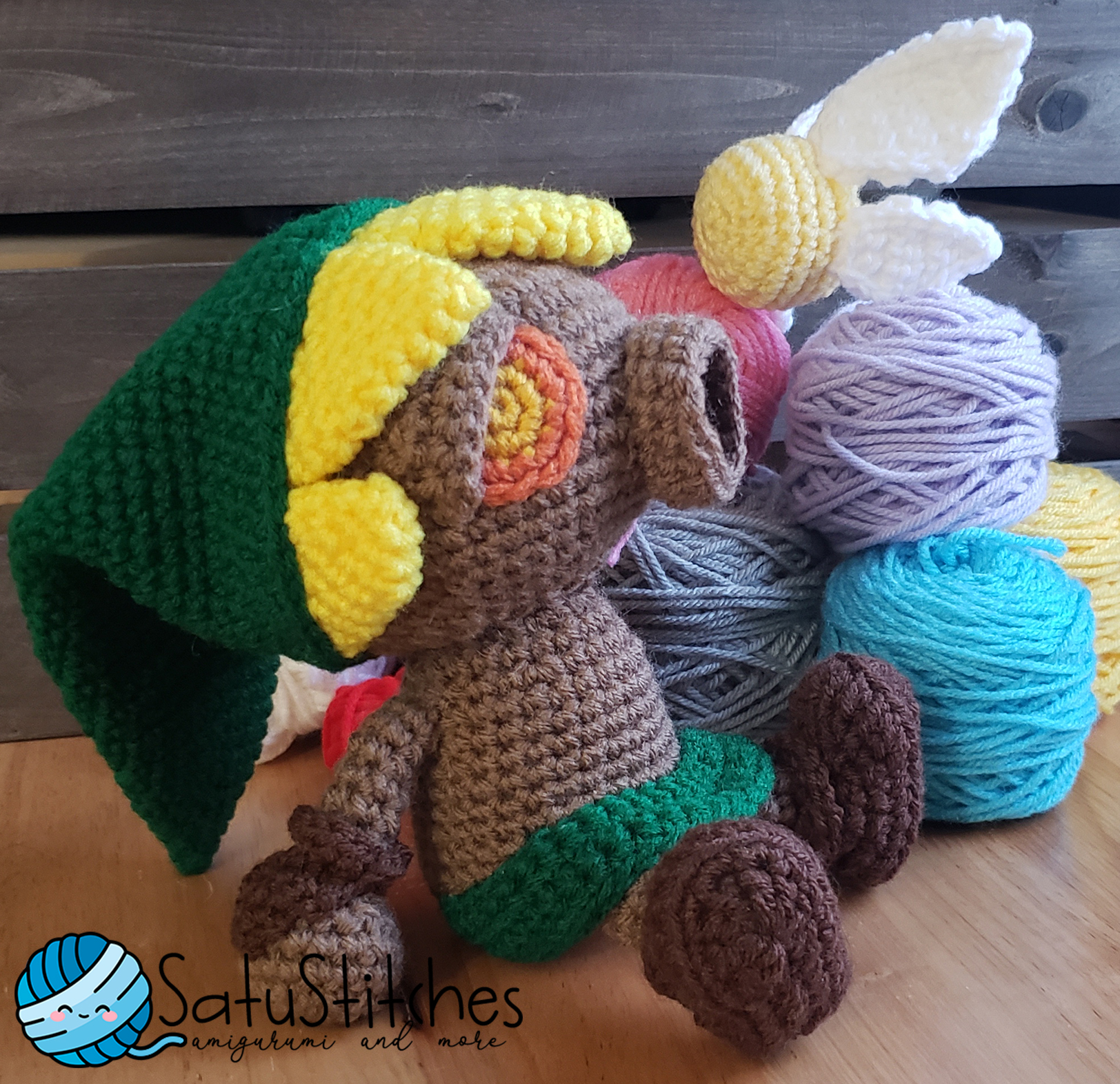 Materials:
Worsted Weight Yarn.
Brown
Dark Brown
Yellow (Hair)
Gold (Eyes)
Orange
Green
Black
4.5 mm Size G Crochet Hook
Stuffing (fiberfill, polyfill, etc.)
Tapestry Needle
Abbreviations:
[American English Terms]
slst – slip stitch
ch – chain stitch
sc – single crochet
dc – double crochet
hdc – half double crochet
inc – increase (2 single crochet stitches in the same stitch)
dec – decrease (single crochet 2 stitches together)
f/o – fasten off
[ ] – repeat instructions between [ and ]
( ) – the total number of stitches for row
CC – change color
MC – Magic Circle (Please see special instructions)
FLO – front loop only
BLO – back loop only
Finished Size:
The finished size is about 8″ tall. Size varies based on yarn, crochet hook, and your tension.
Special Stitch Instructions:
Most pieces begin with a "ring." Use any type you feel comfortable with (i.e. Magic Circle, chain 2, and single crochet in the second chain, etc). You'll be working most pieces in a continuous spiral, as indicated by the MC. If your row starts with CH then you'll be working in regular rows unless otherwise indicated.
The use of a marker is very useful if you're not used to working in continuous rounds. It's also great if you have to stop midway.
About the Pattern:
This Deku Link crochet pattern MAY NOT be publicly distributed or sold in print or digital form. You MAY NOT reproduce this pattern on your site. Instead, link back to this pattern.
This pattern is an original pattern by Bobbi Wetzler, Satu Stitches (2015). Do not claim this pattern as your own. Legend of Zelda / Majora's Mask is a registered trademark or trademark of Nintendo of America, Inc. I am not affiliated with Nintendo.
You can NOT sell dolls made from this pattern as the doll's likeness is under the copyright of Nintendo. This pattern is for personal use ONLY.
Head
With brown yarn:
1. MC – 6sc (6)
2. 6inc (12)
3. [1sc, 1inc] x 6 (18)
4. [2sc, 1inc] x 6 (24)
5. [3sc, 1inc] x 6 (30)
6. [4sc, 1inc] x 6 (36)
7. [5sc, 1inc] x 6 (42)
8. [6sc, 1inc] x 6 (48)
9-16. 48sc
17. [4sc, 1dec] x 8 (40)
18. 40sc
19. [3sc, 1dec] x 8 (32)
20. [2sc, 1dec] x 3, 4dec, [1dec, 2sc] x 3 (22)
21. 10dec, 2sc (12) Stuff as you go.
22. FLO: 12inc (24)
23. 24sc
24. [3sc, 1inc] x 6 (30)
25-29. 30sc
30. [4sc, 1inc] x 6 (36)
31-32. 36sc
33. BLO: 36sc
34. [4sc, 1dec] x 6 (30)
35. [3sc, 1dec] x 6 (24) Finish stuffing.
36. [2sc, 1dec] x 6 (18)
37. [1sc, 1dec] x 6 (12)
38+. [1sc, 1dec] until closed.
Legs:
(Make 2)
With dark brown yarn.
1. CH8 – 1inc, 4sc, 1hdc, 7dc in the last ch. Work down the opposite side of CH – 1hdc, 4sc, 1inc. Do not join, continue in rounds. (21)
2. 2inc, 7sc, 3inc, 8sc, 1inc (27)
3. Backloops: 7sc, 1hdc, 11dc, 1hdc, 7sc (27)
4. [1sc, 1dec] x 9 (18)
5. 5sc, 1hdc, 4dec, 1hdc, 3sc (14)
6. 1sc, [1sc, 1dec] x 4, 1sc (10) Stuff shoe.
7. 10sc
CC to brown.
8-11. 10sc. Stuff as you go.
f/o leave tail for sewing. Attach both legs in a V shape by pinching the last row and sewing it to the bottom row of the body.
Boot Cuff:
(Make 2)
With dark brown yarn:
1. CH13 – [1sc, 1inc] x 6 (24)
f/o and attach to the leg just before the color change.
Arms:
(Make 2)
With brown yarn:
1. MC – 6sc (6)
2. 6inc (12)
3. [1sc, 1inc] x 6 (18)
4-5. 18sc
6. [1sc, 1dec] x 6 (12)
7. 6dec (6) Stuff hand.
8-14. 6sc. Stuff as you go.
F/o and attach to body. Angled so it looks like he's sitting back.
Gloves:
(Make 2)
With dark brown yarn:
1. CH6 – 5sc
2. 1inc, 3sc, 1inc (7)
3. 1inc, 5sc, 1inc (9)
4. 2sc, 1dec, 1sc, 1dec, 1sc (7)
f/o and attach to hand. This is the glove part that is supposed to cover the knuckles. So place it on the hands with that in mind.
Cuff: 
(Make 2)
With dark brown yarn:
1. CH11 – [1sc, 1inc] x 5 (15)
f/o and attach above the hand.
Skirt:
With green yarn:
1. CH37 – 36sc
2-4. 36sc
f/o and attach one row above the butt.
He's so cuuuuuuute! I hope you enjoyed this Deku Link pattern as much as I did creating it. I don't know why but this scene with Tatl is the first thing that comes to mind when I think of Majora's Mask.. outside of that moon.. No one can forget that moon. *Shudders*
So tell me, did you enjoy Majora's Mask?