Jellyfish Crochet Pattern
This is my favorite Jellyfish crochet pattern! It's so easy and quick to whip up in a variety of color combinations. It's an awesome stuffing stocker during Christmas or even a quick "thinking of you" gift throughout the year. Attach a string to its head and it can be hung anywhere!
You can purchase an AD-FREE PDF copy of this jellyfish crochet pattern through my Gumroad store by clicking the link below. This gorgeous PDF includes 8 step by step pictures and is a total of 5 pages, including the cover page. It's worth it!
Please check out the companion pattern page that has MINIMAL pictures for your convenience.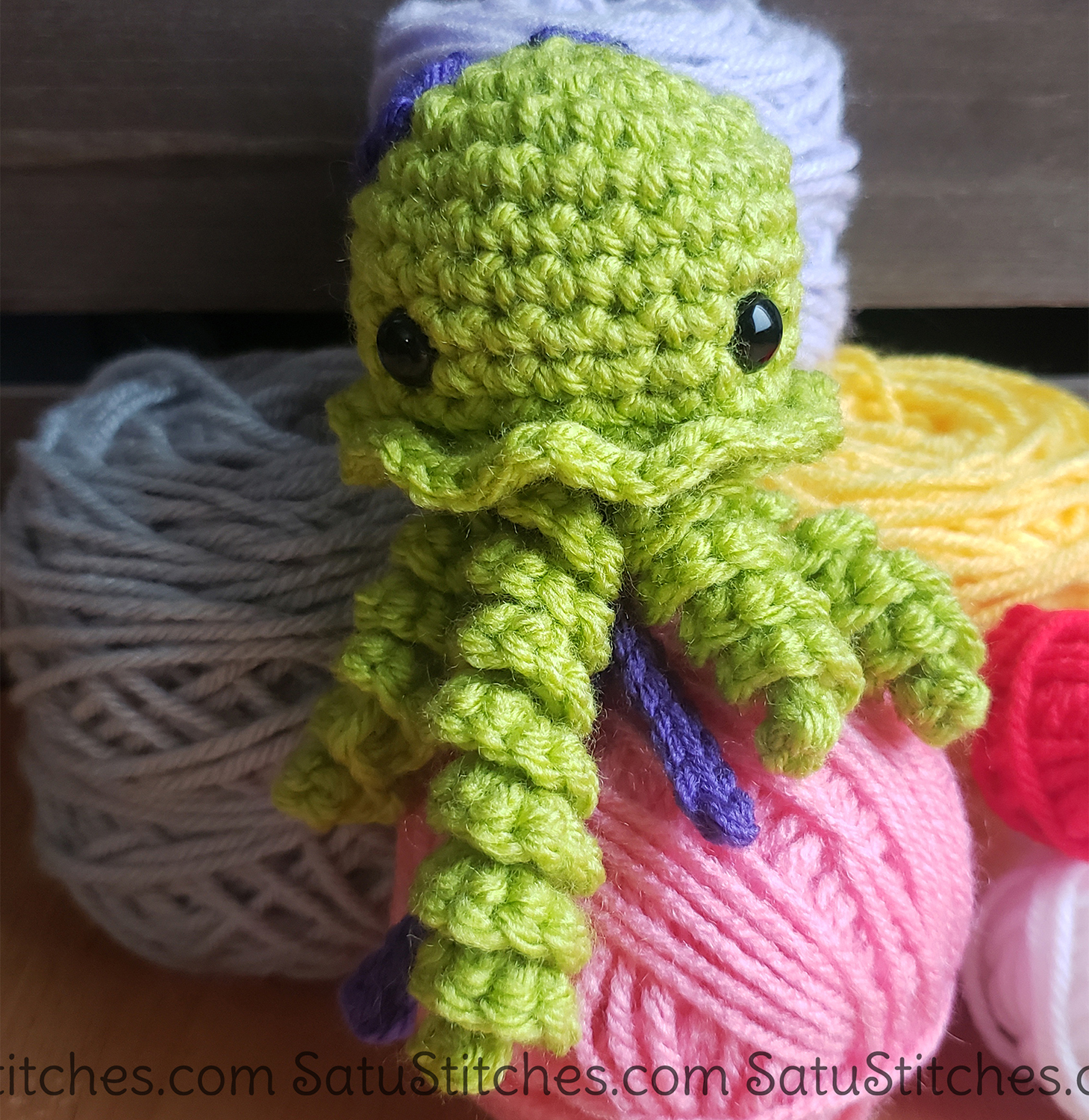 Materials:
Worsted Weight Yarn.
Lime Green (Main Color)
Neon Purple (Accent Color)
4.5 mm Size G Crochet Hook
2 – 10mm black craft eyes
Stuffing (fiberfill, polyfill, etc.)
Tapestry Needle
Abbreviations:
[American English Terms]
slst – slip stitch
ch – chain stitch
sc – single crochet
dc – double crochet
hdc – half double crochet
inc – increase (2 single crochet stitches in the same stitch)
dec – decrease (single crochet 2 stitches together)
f/o – fasten off
[ ] – repeat instructions between [ and ]
( ) – the total number of stitches for row
CC – change color
MC – Magic Circle (Please see special instructions)
Finished Size:
The finished size is about 6" tall. Size varies based on yarn, crochet hook, and your tension.
Special Stitch Instructions:
Most pieces begin with a "ring." Use any type you feel comfortable with (i.e. Magic Circle, chain 2, and single crochet in the second chain, etc). You'll be working most pieces in a continuous spiral, as indicated by the MC. If your row starts with CH then you'll be working in regular rows unless otherwise indicated.
The use of a marker is very useful if you're not used to working in continuous rounds. It's also great if you have to stop midway.
About the Pattern:
This jellyfish crochet pattern MAY NOT be publicly distributed or sold in print or digital form. You MAY NOT reproduce this pattern on your site. Instead, link back to this pattern.
This pattern is an original pattern by Bobbi Wetzler, Satu Stitches (2016). Do not claim this pattern as your own.
You're more than welcome to sell items made from this pattern, so long as it is not mass-produced. Please indicate that it is a 'Bobbi Wetzler of SatuStitches Design' (on the tag) and link to SatuStitches.com (if the listing is online.) Do not use my pictures to advertise your work.
Head:
With Main Color:
1. MC – 6sc (6)
2. 6inc (12)
3. [1sc, 1inc] x 6 (18)
4. [2sc, 1inc] x 6 (24)
5-10. 24sc
11. Backloops in this row only. [2sc, 1dec] x 6 (18)
Begin stuffing. Add your safety eyes between rows 8 and 9.
12. 9dec (9)
Finish stuffing.
13. 4dec, 1sc (5)
f/o, sew up any holes.
Head Details:
With Main Color:
1. CH25 – [1sc, 3sc in same stitch] x 12 (48)
f/o and attach underneath row 10, using the back loops from row 11 as a
guide.
Spots:
With accent color:
(Make 2)
1. MC – 4
f/o and attach.
1. MC – 4
2. 4inc (8)
f/o and attach.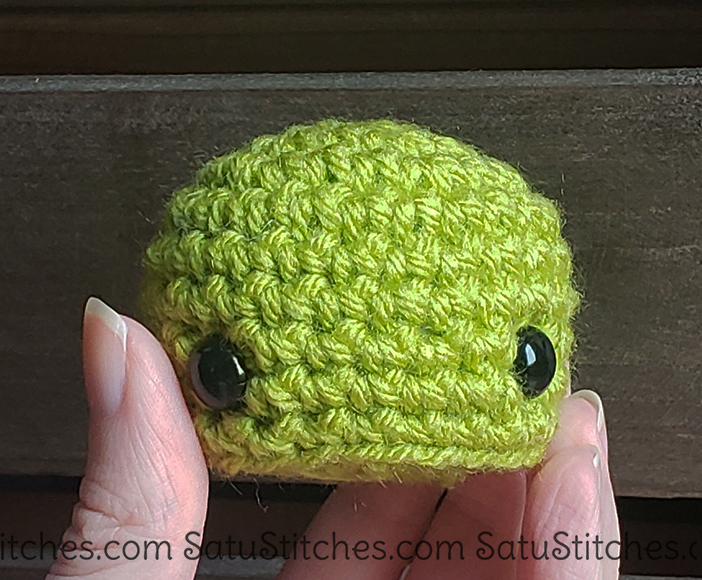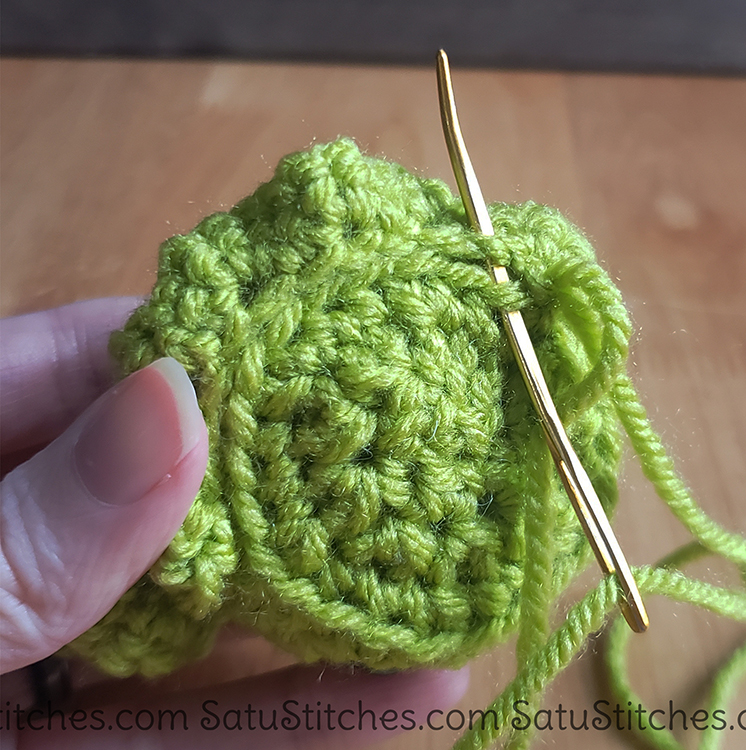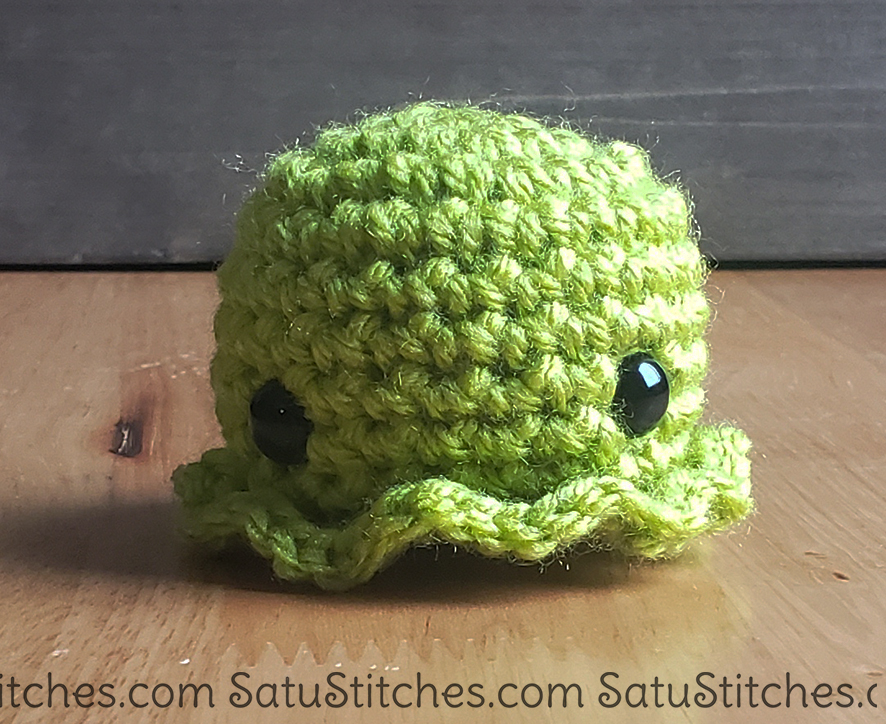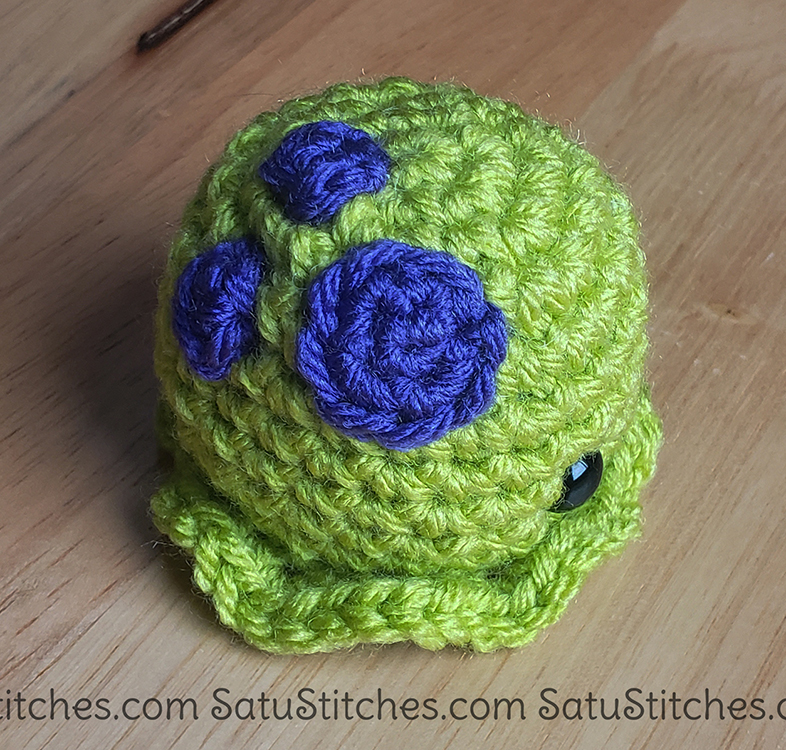 Tendrils:
With Main Color:
(Make 2)
1. CH16 – [3sc in the same stitch] x 15 (45)
f/o.
(Make 2)
1. CH25 – [3sc in the same stitch] x 24 (72)
f/o.
1. CH20 – [3sc in the same stitch] x 19 (57)
f/o.
Attach all tendrils on the bottom around the outside.
With accent color:
1. CH14 – 13slip stitches (13)
f/o.
1. CH19 – 18slip stitches (18)
f/o.
1. CH9 – 8 slip stitches (8)
f/o.
Attach all three in the middle.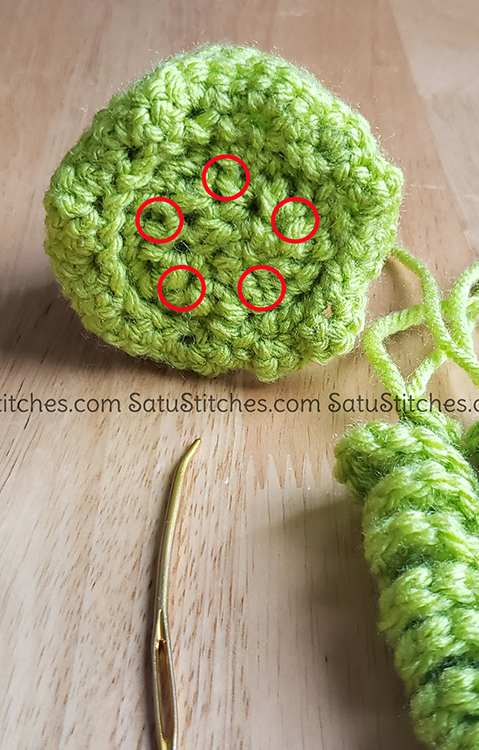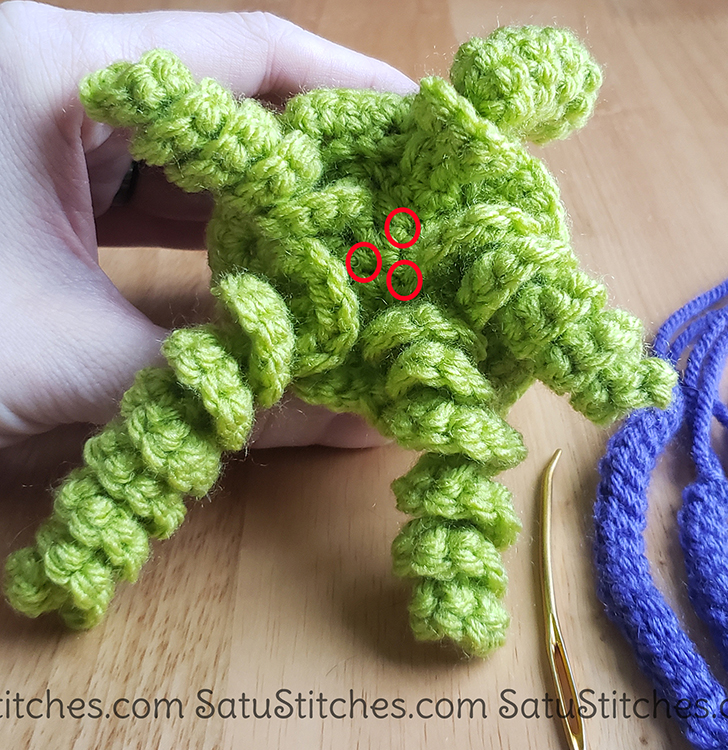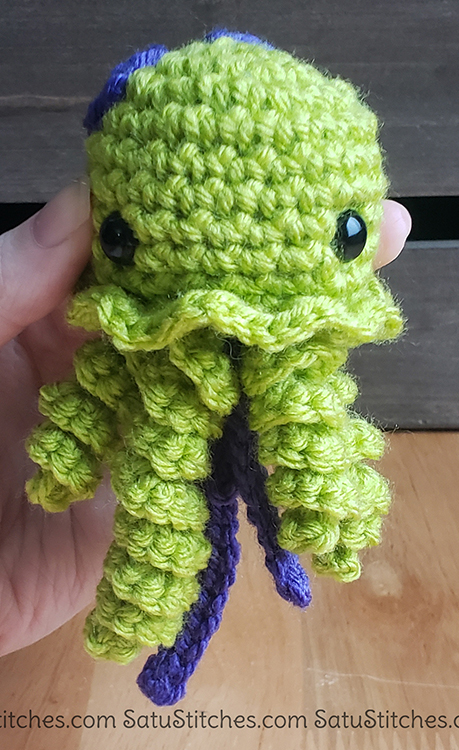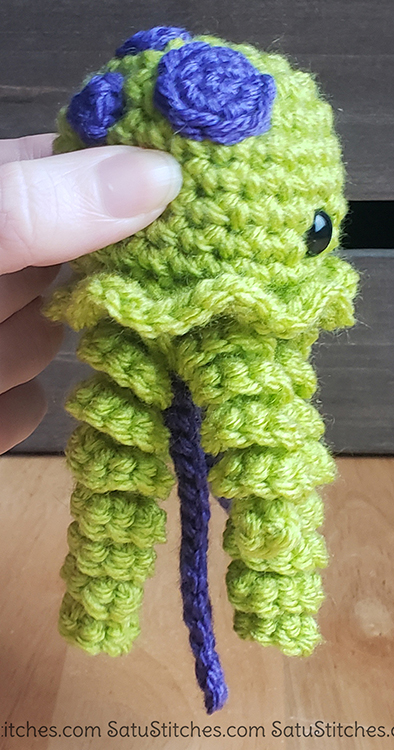 All finished! Now you have the perfect little jellyfish to share with all your friends! Try out different color combinations with this jellyfish crochet pattern and make an army!